BABI-BABI
Babi-Babi is a private game reserve (specialising in game found on the plains), in the middle of 30,000 hectares of lush vegetation, typical of southern Africa (the bush). Located 300 km east of Windhoek (capital of Namibia) and 30 km from the western border of Botswana, the reserve has more than 30 high-quality trophy game species. At the Babi-Babi lodge, you will enjoy your hunting safari in complete tranquillity.
A MAGNIFICENT LODGE
Enjoy all the modern and luxurious comfort of a lodge with stunning views of the Namibian plains. This first class lodge consists of three two-suite cottages, a restaurant, a bar and lounge areas, and a swimming pool. The spacious suites, with air-conditioning, not facing each other, are oriented to provide a view of splendid landscape. They are situated away from the communal areas so you can enjoy your relaxation time peacefully. This tranquil spot, nestled in private grounds, is the ideal place for being close to nature – a real change of scenery!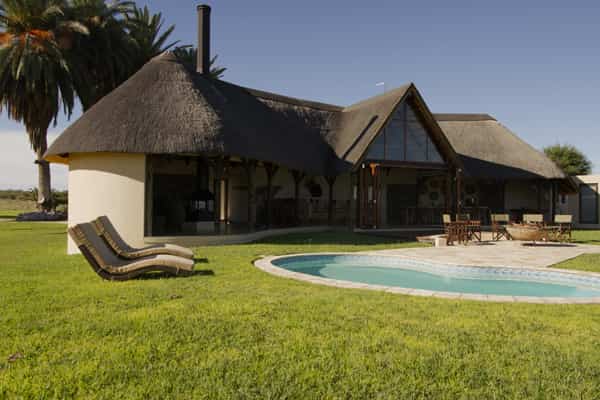 Babi-Babi is a luxurious lodge with unique comfort and architecture. In the heart of a private estate located in a reserve of more than 30,000 hectares, you will enjoy the warm welcome of its French hosts.
A TIME TO RELAX
The top quality services will enhance your stay and enable you to make the most out of it. The lodge's staff is at your service and attentive to your needs. The cuisine is first class. Whether you want to spend the evening stargazing and watch the night animals awaken, relax and enjoy the quiet of your suite, or appreciate the comfortable atmosphere of the various lodge areas at your disposal, everything is designed to make your stay a memorable one…