THE COUNTRY
LAND SURFACE
824 116 km2 (one and a half times France)

Map of Namibia
CAPITALE
Windhoek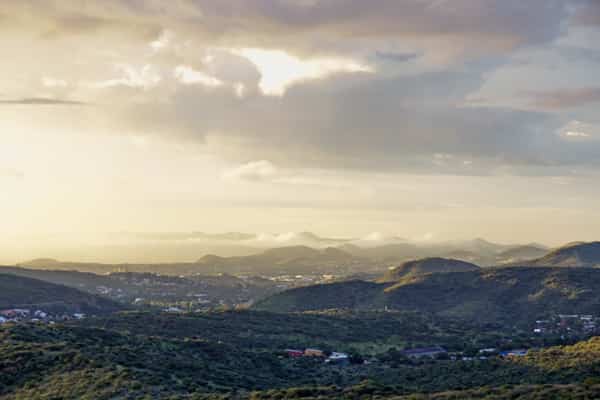 Panoramic view of Windhoek
THE HUNTING SEASON
In Namibia the hunt is open every year, from February 1st to November 30th.
CLIMATE
Namibia, formerly South West Africa, has a subtropical, desert climate along the coast and in the south, while the inland regions of north-central and north-east have an arid climate, but with a rainy season from November to March. The least amount of rainfall occurs in August. The average for this month is 1.8 mm. In February, rainfall reaches its peak, with an average of 50.2 mm. In December, the average temperature is 25.3°C. December is therefore the hottest month of the year. July is the coldest month of the year. The average temperature is 13°C in this period. (Data for Gobabis, nearest town to Babi-Babi).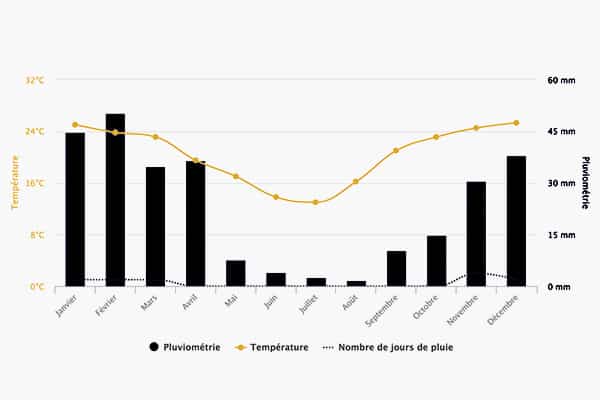 Climate graph
POLITICS
– Parliamentary Democracy (Independence: March 21, 1990)
– President: Hage Geingob
LANGUAGES
– Official language: English
– Widespread Namibian dialects: Bantu and Khoisan
– Languages prevalent among the white population: German and Afrikaans
POPULATION
– 2,584,970 inhabitants (2018)
– Density: 2.85 persons / km² (2018), one of the lowest in the world
– 11 ethnic groups
– Religions: Christians (85%, 50% Lutherans), animists (15%)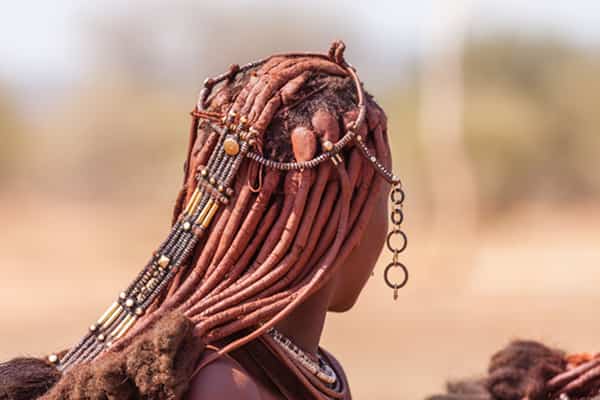 The Himbas are one of the oldest ethnic groups in Namibia
ECONOMY
– GDP per capita: USD 4,415 (2016)
– Growth rate: 5.3% on average in 2015
– Unemployment rate: 29.6% of the active population in 2014
– Inflation rate: 3.4% in 2015, and 5.2% expected in 2016 (IMF)
– Poverty: 34.9% of the population lives on less than $1 a day, and 55.8% on less than $2 a day
– Composition of GDP: 6.2% agriculture, 30% industry (including 20% mining), 63.8% services (of which 18.2% for tourism)
– Composition of jobs: agriculture 47%, industry 20%, services 33% (of which 18.2% for tourism)
– Origin of imports: 85% South Africa, 10% Germany
– Destination of exports: South Africa and Great Britain, Spain, Japan, Germany
– Main goods exported: diamonds, copper, gold, zinc, lead, uranium, meat, fish, karakul wool
Lüderitz is a village located between the Atlantic Ocean and the Namib Desert, a leading tourist destination of the country.
HEALTH
VACCINES
Namibia enjoys generally satisfactory sanitary conditions. Thanks to its dry climate for most of the year, none of the frequent diseases in Africa are rife there. So, there are no vaccines absolutely necessary in Namibia. If your universal vaccines are up to date (diphtheria, tetanus, whooping cough, polio, hepatitis A), you will not have a problem. Other vaccines may be advised (typhoid, rabies, meningococcal meningitis), but nothing obligatory; everything depends mainly on your personal medical history and the duration of your stay and if you travel with children.
HEALTHCARE
Namibia is rather well equipped in terms of healthcare. Medical facilities are numerous, especially in the big cities and particularly in Windhoek. Doctors are well trained and competent. There is even a pharmacy on-call system in much of the country.
FURTHER INFORMATION
– Telephone codes:
● France > Namibia: 00 +264 + correspondent's number
● Namibia > France: 00 +33 + correspondent's number (without the initial 0)
– Electricity: 220 volts – provide an adapter
– Currency: Namibian dollar (NAD)
– Time difference: same time zone as Paris during summer time (no change in winter time in Namibia)
– Flight time:
● Via Johannesburg: about 14 hours
● Via Frankfurt: about 10 hours